Drop Into The Hunter's Best CrossFit Box
VISITORS AND
DROP IN'S ARE ALWAYS WELCOME
We love the CrossFit community and meeting visitors from far and wide. So, if you're an experienced CrossFitter and you're looking for a training home away from home you've come to the right place. At Crossfit Origin you will get to train with CrossFit HQ and Level 3 trainers in a clean and well kept facility with free parking and wi-fi. Click the button below, complete the form to register your drop in and then we'll see you in the gym!
---
Register Drop In
Getting Started At Crossfit Origin
OUR
LOCATION
Our facility is unlike any gym you've been to before. We pride ourselves in not only providing world class training but we also believe in creating a motivating, dynamic environment filled with like-minded people of all ages and body types, who are committed to working hard and achieving lasting fitness results. We love what we do and it shows on the gym floor. Come in and check it out. We would love to be your training home away from home!
CrossFit HQ And L3 Coaches, A Sun-Lit And Clean Facility, Showers, & Free Parking!
RX YOUR
VISIT TO THE HUNTER
Client Testimonials
SUCCESS STORIES FROM MEMBERS
Being a first time Mum and regaining confidence to be fit and active, I was extremely welcomed in the Origin Community and I will be forever grateful. I have been a part of the Crossfit Origin Community since my daughter was 3 months old and it has been one of show more the best decisions I have made for my mental and physical health. After I had my daughter I was so nervous and anxious about going to a gym and feared that I wouldn't be able to perform any exercise movement as well as all the 'fit people'. I will never forget my first one-on-one consultation with Kaitlyn and how comfortable she made me feel and the level of knowledge and understanding she had in postpartum women returning to exercise. Kaitlyn immediately filled me with confidence and introduced me to all the easily modified movements which would help redevelop my core strength. She assured me that all the coaches would be informed and able to support me and my individual journey in returning to exercise post baby. All of the coaches have been so understanding and welcoming of myself and my daughter Olive. Returning to the gym when you first have a baby can be daunting as you feel anxious/selfish to leave your baby with other people. However, Olive came to every session with me and I was able to see her, comfort her and feed her if needed. Six months later and I have lost 13kgs and gained so much confidence, strength and lifelong friendships. It has been so rewarding dedicating 1 hour each day to myself and my wellbeing show less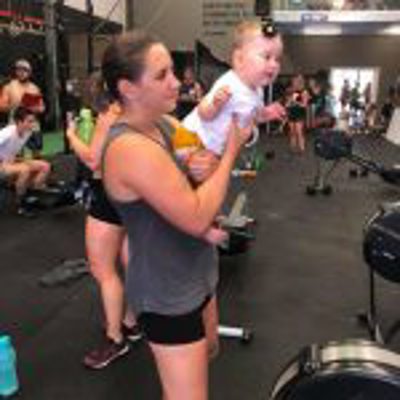 Lauren
I was in my early 30's overweight and unfit with a family history of heart disease. A good friend of mine recommended I try Crossfit Origin. I had had been in reasonable shape in years gone by but kids and work had meant that I had let that slide quite show more a bit. At the time I didn't know a lot about Crossfit, only that it had a reputation for being full on. I thought "what am I getting myself in for". I won't say that it has been easy. It's been challenging as it highlighted my lack of fitness to say the least. However I am not one to give up when confronted with a bit of hard work. I was well aware of where I was and where I wanted to get back to. Over the past 2.5 years I have reached my initial goals and the advanced well past them. Beyond this, I have also become a part of the Crossfit Origin family and wider Crossfit community. Crossfit is something we are a part of as a family. Since I started my wife and children have also become a part of the Crossfit Origin family. Crossfit is an individual measure of fitness achieved in a team atmosphere. The people you meet at Crossfit Origin are motivated and positive, encouraging and inspiring. You will have fun, you will hurt, you will ask 'what am I doing?' You may even cry. You won't regret starting. Thank you Sean, Kaito and Pepper for make Crossfit Origin a great community show less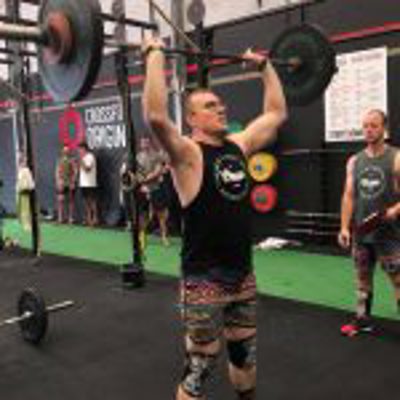 David
Crossfit Origin is awesome! As a beginner to Crossfit only 9 months ago, I was nervous about starting up too. You just have to bite the bullet as I did – and I haven't looked back. Kaito, Sean and the other coaches have created a very positive space to reach show more your goals and beyond. Since joining I've lost 10kg and am the fittest I have ever been. With each day's program done by the best in the business Raw Strength and Conditioning, each day is different and full of challenging movements to build a better, stronger you. I can't speak highly enough of the whole Origin crew. show less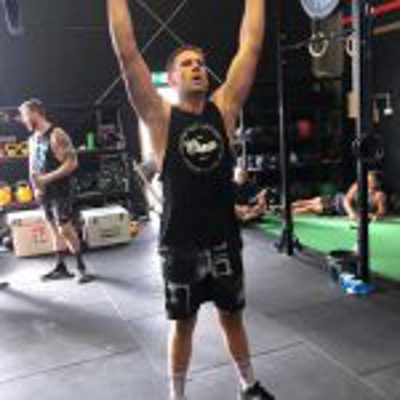 Travis
Register Drop In
Book In Your Session!
REGISTER YOUR
DROP IN